GLScan FP
The GLScan FP is an imaging system for capturing Gellifters with a size of up to 13 x 18 cm. Although the system is capable of scanning all sorts of traces including shoeprints in dust, the system is intended for use by fingerprint departments.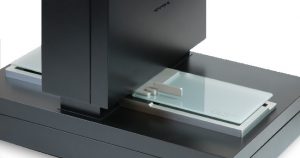 Images are captured at a resolution of 1400 ppi making third level detail that may be present in a lifted mark clearly visible.
The sensitive camera and the LED light source mounted in the scanning unit provide for the imaging of Gellifters containing a wide variety of marks: from direct lifts to lifts of marks developed with highly reflective fingerprint powders. A large number of light intensity and exposure time setting combinations are available to the user for manual adjustment. More user friendly is the Auto Exposure feature. Auto Exposure assists the user to find the best available combination between the two settings and then scans the image using these settings providing the optimum result.
Distortion of an image, the so-called fish-eye effect, is limited to the absolute minimum with the GLScan FP.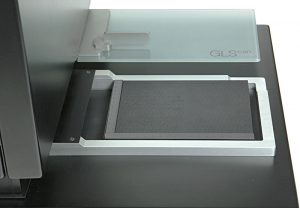 A high-quality lens ensures an image that is distortion-free along both the x and y axes.
The GLScan control software offers the user a number of image processing controls like changing levels, inverting, flipping and rotating the image. The original image is stored automatically and cannot be overwritten by an image which is changed by the user. Images can be stored in most common image formats. Images acquired with the GLScan FP can be exported to all known AFIS systems.
The scanning unit is fitted with a vacuum stage on which the Gellifter is positioned during scanning. It keeps the Gellifter perfectly flat making sure that the complete image is in focus and free of hot spots cause by unwanted light reflected towards the camera. The vacuum is provided by a pump which is mounted in a sound-insulated housing; this keeps the noise created by vacuum pumps down so that it can be used in office and lab environments.
Reference scales are present at the vacuum stage along the X and Y axis, these are scanned together with the Gellifter providing a proof of the correctness of the size of the scan. The dimensions of the unit are: 65 x 45 x 57 cm (width x depth x height) – not reckoning the space needed on the back for the cables.
The GLScan FP is operated by an up-to-date PC running Windows with a 30" monitor as a standard.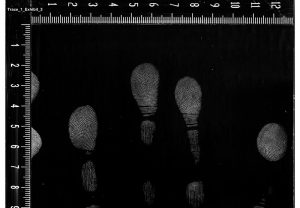 Scanned fingerprints on a black gellifter 9×13 cm.