The NAC Memrecam GX-5 Digital High-Speed Video System now provides even more flexibility making it the ultimate imaging system for onboard automotive testing!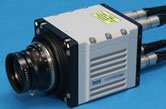 The GX-5 is an expandable, multi-head, high-speed digital camera system providing the most versatility of any high-speed camera system currently on the market! This tethered head system offers expanded memory optimization, a choice of Data Processing Recorders (4 channel or 8 channel), multiple camera heads depending on your light sensitivity and resolution requirements – all with extended cable extensions. The GX-5 provides a TOTAL solution for all car crash safety tests, as well as other applications.
System Features:
Multi- Camera Heads – NAC provides three (3) separate models:
P- Cam (25 x 25 x 95mm) – Micro camera head with ultra high light sensitivity for confined, poorly lit spaces.
HR-Cam – High resolution camera head (Color: ISO 5,000, Monochrome ISO 20,000) capturing images at 1280 X 960 (1000 fps) available with choice of lens mounts.
S-Cam (25 x 25 x 25mm) – The sensor is located outside of the camera body providing for an even tinier camera head for imaging inside of the most confined and remote spaces.
Data Recording Processor (DRP) – available in 4 channel and 8 channel versions. The GX-5 DRP unit provides for local operation without the use of a PC and includes a Memory Back-Up function and IRIG time stamp recording. The DRP also provides for multi-camera synchronization and allows for both individual and multi-head image display on the LCD viewfinder.
Hi-G – Ruggedized for onboard Hi-G applications 100G's shock, 11ms.
Ultra high light sensitivity and high resolution – The choice of GX-5 camera heads offers the user to choose a model that allows for specific size, light and resolution requirements!
Applications serviced by NAC Image Technology GX-5 Camera Systems: Vehicle Impact Testing • Onboard Airbag Deployment Testing • Safety Restraints Testing • Automotive Component Testing • Automotive Research and Design • Ballistics • Manufacturing • Research, Design & Test
Na stiahnutie: