high resolution back illuminated sCMOS camera
To see or not to see: if every single photon counts, the new pco.panda 4.2 bi can lead you to the answer. Enabled by PCO's new back illuminated (bi) sensor and based on the latest innovations in sCMOS technology, the pco.panda 4.2 bi reaches a quantum efficiency of up to 95 %. This makes the camera perfectly suited for low light conditions without the need for active cooling. The high resolution of 2048 x 2048 pixel with 6.5 x 6.5 µm² pixel size allow greater detail diversity and highly qualitative images. The addition of the USB 3.1 interface provides direct power delivery via USB cable. PCO's renowned sCMOS features and the camera's compact dimensions of 65 x 65 x 65 mm make the pco.panda 4.2 bi ideal for countless applications, e. g. in the fields of microscopy and life science.
For further information see product data sheet.
Key Features
ultra-compact size: 65 x 65 x 65 mm³
back illuminated 16 bit sCMOS sensor technology
high resolution 2048 x 2048 pixel
pixel size: 6.5 x 6.5 µm²
quantum efficiency up to 95 %
exposure times from 100 µs to 1 s
maximum frame rate 40 fps @ full resolution
rolling shutter
USB 3.1 Gen1 interface
power over USB
QE Curves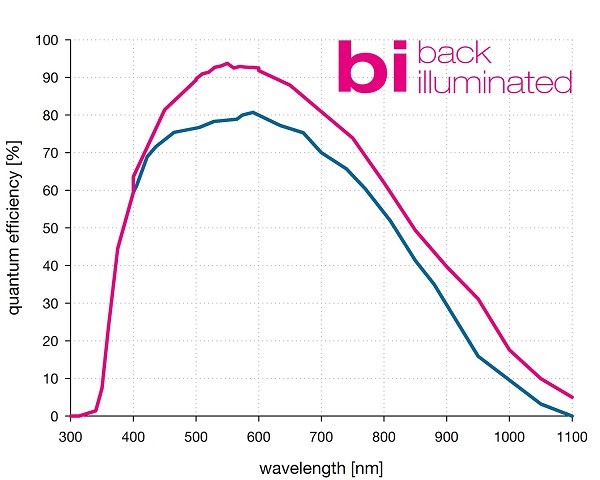 Quantum efficiency curve pco.panda 4.2 front illuminated (blue) vs. pco.panda 4.2 back illuminated (magenta)
Areas of application
live cell microscopy
single molecule detection
spinning disk confocal microscopy
FRET
FRAP
fluorescence spectroscopy
bio- & chemi-luminescence
high content screening